The HairMax LaserComb – Our Hat's off to You!
The HairMax LaserComb –
Our Hat's off to You!
http://hairmax.com/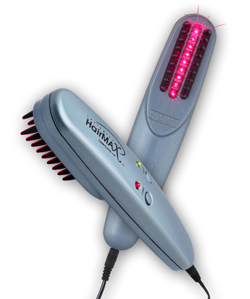 It is estimated that over 70 million men and women across the United States suffer from hair loss or thinning hair. 70 MILLION. This is truly a staggering number. With a vast assortment of products and "quick-fixes" out there, one can't help but feel confused. Do any of them actually work? Can I trust any of these claims?
Maybe, at the end of this proverbial tunnel, there is after all a light – specifically, a laser light. Low-level laser therapy (LLLT) is proving itself to be a very viable solution. The concept of using lasers to enhance the appearance and health of hair is not new. It has been a popular practice in Europe, Asia and Australia for more than twenty years and has proven to be very effective.
Naturally, the next logical question is, "Why haven't I heard of this?" Laser Phototherapy has remained relatively elusive to the American public because traditionally it has been available only at laser clinics. Despite the efficacy of this method, laser clinics failed to catch on as a conventional form of treatment. Repeated trips to a laser clinic quickly prove to be both tedious and costly, not exactly the most appealing combination.
All hope is not yet lost, however. In 2000, a Florida-based company called Lexington International developed and patented the HairMax LaserComb to miniaturize the internationally recognized technology of Laser PhotoTherapy. This device essentially maximizes the benefits of low level laser therapy, but removes the hassle and the hefty price tag. The LaserComb is a portable unit, convenient to use in the comfort and privacy of your own home and is a one-time purchase, which works out to be a fraction of the cost of other treatments.
The HairMax LaserComb certainly seems like a feasible option considering the alternatives. It is clean, natural, and safe with no negative side effects. It meets all of the laser safety requirements as outlined by the US Government. Applying the product is a straightforward, easy process that takes only ten to fifteen minutes, three times a week.
While everything sounds good so far, it doesn't answer the most pressing question of all – does the LaserComb really work? According to tens of thousands of satisfied customers worldwide, the answer is "YES". Anecdotal feedback indicates user satisfaction to be greater than 90%; this is among the highest of any product in the hair care industry. Still more impressive than any fantastic claims or statistics is the solid money-back guarantee that comes with every unit sold through Lexington. Customers don't even have to believe that this product will work; they can try it out for up to five months and judge for themselves or return it for a refund.
Within about eight to twelve weeks, a typical user can usually start noticing some results. Considering the fact that it often takes years for problem hair to deteriorate to the point of becoming recognizable, that isn't such an unreasonable timeframe. They can expect their hair to become thicker, healthier and more vibrant looking. These are only early signs that the LaserComb is starting to work. Results progressively improve over time. Still, this is no miracle cure. As with any other product on the market, users must continue treatment in order to maintain benefits. The HairMax LaserComb is built from quality components and is made to last a lifetime.
Of course, a cutting-edge product such as this isn't going to remain a secret for long. Lately, the HairMax LaserComb has attracted its fair share of media attention. In 2000, Time Magazine named the LaserComb one of its distinguished "Inventions of the Year". Just recently, NBC ran a story examining five of todays most popular hair treatments and comparing results. Not surprisingly, the LaserComb emerged victorious among non-surgical options. Local news affiliates of NBC, ABC, CBS, and Fox have picked up on the momentum and have featured the LaserComb in numerous news pieces, not to mention the countless newspaper articles across the country that have included it in positive stories.

Expectedly, a number of competitive copycat products have been popping up on the market, making the decision-making process that much more difficult. Quite simply, the HairMax is in fact the original laser comb. Looking at side-by-side comparisons, it becomes unmistakably clear that the HairMax LaserComb is a far superior product in both quality and efficiency. There are many significant differences that need to be considered such as wavelength, power, credibility and safety. Most of these copycats do not even generate enough laser energy to be effective. These other products are no more than second-rate imitations.

In a society that places so much emphasis on looks, the HairMax LaserComb offers a new opportunity to men all over the world who had resigned themselves to the idea that there simply was no hope for their thinning hair. Thicker, fuller hair can promote increased assurance and self esteem. With HairMax models starting at $395 and only requiring a commitment of ten to fifteen minutes, three times a week, the HairMax LaserComb is a small price to pay for a new look and renewed confidence.

http://hairmax.com/

For over five years, MiN New York has developed superior professional products and competed with the global giants of the industry. Since inception, our focus has been on research and innovation. Utilizing these two key concepts, we seek new and interesting solutions to everyday grooming challenges for both men and women. Fresh ideas are always welcome and the feedback of our customers is one of the keys to our continued evolution.
We firmly believe that the world doesn't need more products --- it needs better products.
Our innovative hair care line inhibits DHT, one of the scientifically proven causes of hair loss and thinning hair for both men and women. Included in our formulas are ingredients essential for healthy hair and scalp, such as Biotin, Zinc Sulfate and Saw Palmetto. In addition, we actively seek out new and promising ingredients, such as Procapil® and Copper Peptide Y-3 that give our formulations the competitive edge.
We have been featured in major print publications including Maxim, GQ, Vitals, Complex, Millionaire, Style and Men's Health. With DHT blocking ingredients and salon grade hair color, our products are recognized worldwide as a standard of superior products through innovation.
We encourage you to be proactive about your hair by utilizing our easy 3 step professional grade DHT Salon Defense™ daily regimen.

Q: Most guys want to look younger, with respect to hair, what would some of your recommendations be to try to achieve this younger look?

A: For a more youthful look, I recommend short, messy hair. Hair that is cut short, but mussed up slightly to look young and carefree. It is an easy-to-maintain style.
Q: Thinning hair is a concern for a lot of men, what would you normally suggest when asked about thinning hair?

A: I recommend seeing a dermatologist for serious hair loss problems. A qualified dermotologist can recommend injections that stimulate blood circulation in the scalp, thus encouraging hair growth. If you do not want to go the needle route, you can try Propecia, an FDA-approved pill to treat hair loss in men. This is a prescription medication.
Q: Do you see men of all ages using more color in their hair these days?

A: Definately. Many men color their hair at the salon, whether through permanent color, semi-permanent color, or gloss to add shine to graying hair. I suggest going to a salon for color, but if you would like to purchase color at the drugstore, I recommend L'Oreal coloring products.
Q: What tips would you give for having healthy looking hair?

A: For hair that is thinning or dry, I recommend shampooing every other day. In-between shampoos, you can simply wet hair in the shower and apply conditioner for softness. Also, a gel with a gloss is good because it does not give hair that "crispy" feel, and gives shine and control to hair that is dry. I like Phyto styling products.
Q: Looking at the future do you see any noticeble trends in mens hairstyling?

A: A great style that is becoming popular for all ages is what I call a "gradual mohawk" - a cut that is shorter on the sides and gradually becomes longer and spiky on top. This is not the dramatic 80's mohawk, but a more muted, easy-to-wear version. It is stylish, sophisticated and modern.
BIO OF MARCO MARANGHELLO
Senior Stylist
MARCO MARANGHELLO
Senior Stylist
John Barrett Salon at Bergdorf Goodman
Marco Maranghello has risen to achieve what many hairstylists only aspire to during the course of their career. Senior stylist at John Barrett Salon at Bergdorf Goodman and possessor of a star-studded client list including Faith Hill, Naomi Campbell, Kim Cattrall, Kelly Klein, Tara Reid and Jennie Garth to name a few, Marco is an international sought-after stylist for the fashion shows of Versace, Ralph Rucci and Chanel. Marco has made his mark among New York's mane line by creating sexy cuts, body building blow outs and customized extensions for glamorous evening hair.
Marco, a native of Argentina, began his career at the Joseph Martin Salon and honed his craft under the tutelage of Oribe, working at the venerable Oribe Salon from 1999 until 2003. By that time, Marco had developed a loyal following among New York elite and celebrities. Recently Marco worked with country star Lynn Bryant, for her music video and cover of Nashville Lifestyles magazine. Marco also styled hair for the September 2005 cover of Latina Magazine.
While Marco's philosophy is simple, the results are extraordinary. "It doesn't matter what kind of hair someone has--it can be big or flat, curly or straight--but it must be done well," says Marco. "Everyone should be allowed to feel sexy and glamorous." Marco, who credits his clients as his biggest inspiration, aspires to achieve styles that have a contemporary sophistication with more than a dash of confidence and sex appeal. It's no wonder that in addition to regular clients such as Lynda Lopez and "Queer Eye For The Straight Guy's" Jai Rodriguez that Naomi Campbell and Kim Cattrall have also looked to Marco for his sexy, chic styles. His work is also sought after for red carpet events, including the Grammys (Lynda Lopez), Oscars (Elvis Costello and Diana Krall) and Tonys (Andrea Martin).
Marco's versatile approach is reflected in his taste in music, as he notes that jazz and fusion are among his favorites. In his spare time, Marco likes to exercise, practice yoga and enjoys visiting museums and reading books about art history. He also finds time to appreciate the latest styles at Dolce & Gabbana, one of his favorite designers. His charities include The Children's Hope Foundation, a non-profit organization for children with AIDS.
Marco enjoys the professional atmosphere and energy level at the John Barrett salon, and looks to John as a great role model: "The location is just spectacular and the Central Park view, priceless." John Barrett salon at Bergdorf Goodman, 754 Fifth Avenue near 57th Street, 9th Floor, 212.872.2700.
Each month we will be bring you features on hair care that affect your looks and image.
This month we feature hair coloring for men.
City Tribes

They're part of all Cities. They answer to nobody but themselves and move at will. Dressing down or dressing up they push buttons that others do not and want them pushed for all to see.

This session taxed us to do the same .Stripped of all but hair; we added and twisted, colored and shaved. Form was of the essence while making a statement, that caring was not caring; we were here to please ourselves.

Jason Kearns



Hair: Art direction & concept Jason Kearns / Kearns Davidson Hair & Skincare
Photo: Richard Dubois
Prop styling: Lorraine Langlois
Hair Coloring 101
By Chris Rovny
Judging by the flock of email I receive every day, it seems that today's men decide to dye their hair mainly for three reasons. Many want to cover up the gray strands of hair slowly creeping up in their hairdo. Others want to change their look and add a little excitement to their style, while others want to make a statement of some sort. Teenagers on the other hand keep asking me for tips to make their hair look like that of their favorite Backstreet Boy.
Before you go ahead and start coloring your hair, there are a few points you should know regarding hair coloring products.
Leveling it out First of all, there are three major levels of products you can use to color your hair.
A Level 1 product is called a Semi-permanent color. A semi-permanent color will add color to your hair without changing its natural color drastically. Level 1 products, are generally used by men with 50% gray hair or those wanting to slightly enhance their natural colors.
They'll generally last 6 to 12 shampoos and won't lighten your hair permanently since they don't contain any ammonia or peroxides.
A Level 2 product is called Demi-permanentcolor. Level 2 products have a color enhancement factor, which is a little more visible than with first level products. The color should last around 24 to 26 shampoos depending on its strength. Level 2 products are generally used to blend and cover up gray hair.
Finally, a Level 3 product is called Permanent color. Permanent colors are as you might of guessed permanent. Men seeking a significant change in hair color should use them.
Though at this level, it would be wise to consult a professional colorist because the process often involves more than one step. Your hair might need bleaching or a more complicated double coloring process for example. Because the color is permanent, you'll also be engaged to touch up your roots every 4 to 6 weeks as your hair grows back.
Are you a pro? Now, before selecting your hair color, let's go over the pro's and con's of getting a job done professionally versus doing it yourself with a home kit.
It's always recommended to consult a professional colorist before attempting coloring, especially if the color change requires double process techniques, bleaching or toning. A colorist has all the tools and knowledge to get the job done right the first time. To find a qualified hair colorist, ask friends or acquaintances for references.
On the other hand, for those of you looking to camouflage some gray hair or add some fun highlights, coloring kits might be exactly what you need. They're easy to use and definitely cheaper than getting the job done professionally. There's a bunch of "special effect" hair colors and other off-the-shelf kits available to add natural highlights to your hair.
Clairol offers a great range of products for covering gray hair and for the more adventurous man; they also tender a great new line of permanent Hair color. Herbal Essences new line include hot shades like sand storm, purple haze, red desert and bleach blonding.
Whatever product you decide on, make sure toread and follow the instructions on the box extra carefully. I really can't stress this enough as many guys make permanent mistakes and ruin their hair.
Find the best color for you...
The right color for you Now, without going over all the "laws" of colors, here are some points that will surely help you select a perfect dye. First of all, hair color is assigned a level number from 1 to 10, 10 being the lightest and 1 being black. Lighter colors like blond reflects the greatest amount of light while colors closer to black reflect the least.
At a very simplified level, hair coloring is all about finding the right amount of color to add or subtract from your current hair tint. Sounds simple right? Well it isn't. There's a wide spectrum of colors to choose from and it can become very tricky to achieve the perfect color.
Choosing your hair color Any of us could achieve a pink, green or black dye but depending on our hair color, the process varies from a simple one step dye to a more complicated double coloring process. That said, here are the colors which are easiest to achieve with one step dyes.
Generally, for those with black hair it's easier to achieve shades of reds and dark browns.
For those with brown hair, it tends to be more straightforward when coloring to other shades of brown, blonds, caramels and reds.
Finally, men with blond hair can easily get their hair lightened or altered to browns and reds.
Your choice of color should also be based on the analysis of your skin tone.
There's no general rule to determine which hair color will suit your skin tone best. However, according to Jason, a colorist from Coupe Bizarre, guys with darker skin complexions look better with cooler tones. The better options are golden highlights, golden with red highlights, golden brown, honey brown, chestnut, copper, auburn, mahogany, warm tones of gray and whites.
On the other hand, guys with pale skin should opt for warmer colors. For more flattering results choose colors such as plum, burgundy highlights, ash, platinum blonde, brown, dark brown, black, slate, salt and pepper and pure white.
mistakes Jason also reported that the most common coloring mistake was when trying to correct your own coloring mistakes. If the color you purchased doesn't turn out the way you wanted it to, consult an experienced colorist to get it retouched. Many of his clients tried correcting their own hair color and ended up making it worst.
He also pointed out that layering black on black, over and over again is extremely tricky and you might end up with 2 or 3 different shades of black.
Maintenance tips Finally, once you colored your hair to your liking, make sure to take care of it with these essential maintenance tips.
Use a shampoo and a conditioner specifically for color-treated hair.
To avoid your hair from fading in the sun, make sure to wear a hat or appropriate sunscreen protection when exposed.
Your hair should be dampened with spring water before getting into chlorine. It will help dilute the chlorine which normally damages the color from your hair.
Use a wide-toothed comb and blot dry your hair instead of roughly drying it with a towel.
Hopefully, these simple tips made you understand the coloring process and help make your decision a little easier.
Until next week, keep on stylin'.
(c) Copyright since 2000 by AskMen.com.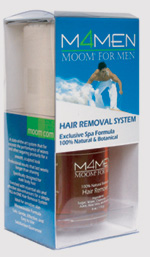 Until now, all hair removers have concentrated on removing unwanted hair and have not cared about what damage they cause to the skin underneath. MOOM® has revolutionized the hair removal industry by making the skin the first consideration. MOOM® for MEN is so pure that it contains nothing but these 5 beneficial ingredients:
Sugar, Water, Chamomile, Lemon Juice, Aloe Vera, and Boswellia
Follow instructions.
Contact them at http://www.moom.com

Do away with thick heavy pomades, and lighten up with Fantastic for Men Simple Style Matte Wax . This pomade provides natural looking, light weight and innovative styling technology for the hottest new styles. Fantastic Sams' unique creamy styling wax is enriched with wheat amino acids that strengthen hair without the added weight.
Fantastic for Men Simple Style Matte Wax is formulated to control the hair's natural texture while giving you increased maneuverability and hold. Use Simple Style Matte Wax to give your hair a messy look or clean, smooth style.
Ditch the old-school heavy pomades and lighten up your look with Fantastic for Men!
Fantastic for Men line will be available for purchase in Fantastic Sams salons nationwide. For more information, visit www.fantasticsams.com
Since its launch in 2001, göt2b has become the hottest, trend-forward, salon-quality hair care line available at food, drug and mass. göt2b is the youth culture's resource to express cool, individual "Attitude for Hair." With innovative products and edgy, eye-catching packaging, it has become the brand of choice for style-conscious product junkies. Inspired by the latest trends in fashion, film and rock-n-roll, göt2b products are the perfect tools for achieving your choice of attitude, killer punk rock, hipster or movie star hair looks especially because it provides professional-quality products at a better value.
göt2b has recently introduced the first-ever hair styling collection for men with "babe-magnet" pheromones - Magnetik by göt2b delivers hold, texture, polish and…GAME! What more can a guy ask for?
Many people underestimate the role that pheromones play in behavior. Pheromones are odorless hormones clinically proven to positively influence the psychology of attraction. Research at San Francisco State University concludes that people are more attractive to the opposite sex when wearing pheromones. In fact, 74% of subjects reported an increase in at least three sociosexual behaviors.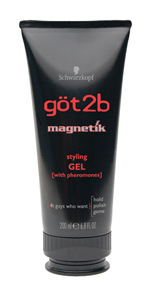 Now guys have two ways to be Magnetik:

Magnetik Styling Gel – This clean-feeling, non-sticky gel provides firm yet pliable grip without flaking while enhancing natural shine.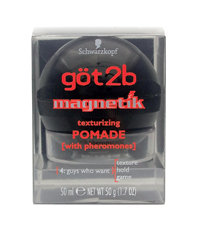 Magnetik Texturizing Pomade – Adds great definition and separation with intense hold and subtle shine.
Each product contains tiny bead-filled pheromones that burst during application.
Sexual chemistry and great hair! Combine the two most important things that make women want men: and you've got – Magnetik!
göt2b Magnetik Collection is available nationwide at food, drug and mass market retailers.

L.A. LOOKS SPORT GELS
X-TREME HOLD
WHAT IT IS:
An X-Treme hold line designed specifically for sporty types who need activity-proof control.
WHAT IT DOES:
Sport X-Treme Hold Gels provides non-stop hold for any high performance activity. This alcohol-free, non-sticky gel will keep your hair under control even in high humidity and contains sunscreens to shield hair from harmful UV rays.
FEATURES AND BENEFITS: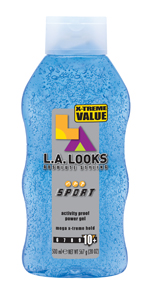 High level of long lasting hold that is alcohol-free and non-sticky
Contains sunscreens to protect hair from harmful UV rays
TriActive Hold ingredient provides absolute fixation, resistance and durability
Safe for color treated hair
Won't break the bank!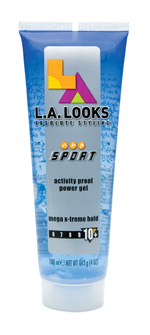 USAGE:
Before activity, smooth a quarter sized amount of product through damp or dry hair and style as desired.
AVAILABILITY:
All L.A. LOOKS products are available at Food, Drug, and Mass stores nationwide.
L.A. LOOKS Sport Activity Proof Power Gel (20 oz.)
L.A. LOOKS Sport Activity Proof Power Gel (26 oz.)
L.A. LOOKS Sport Activity Proof Power Gel (4 oz.)
L.A. LOOKS Sport Fiber Paste (6 oz.)

Gym Bag Essential:
Dep's Answer For Men-on-the Go
Time: 8:45am and you are winding down on your cardio, but you still have to shower and make it across town by 9am for a business meeting. For the ultimate hold guaranteed to last all day long, Dep is to the rescue.
Dep Texture Styling Gel delivers maximum hold to texturize and define any style. This non-flaking, advanced formula offers humidity resistance and ultimate control to lock your style in place. 100% alcohol-free, never stiff or sticky, Dep Texture Styling Gel isn't afraid to get a little rough.
With your busy schedule, who has time to fuss with styling their hair? Dep knows that looking good is important and should not take too long. So, after that intense workout indulge and reach into your gym bag for Dep.
Dep products are available at www.drugstore.com, Rite Aid, CVS, Walgreens, Target, and other drug, mass and food stores nationwide.

New York, NY (May 22, 2007) — 89% of all men surveyed said good grooming was essential to success in the business world but they are frustrated because the current offerings of men's grooming tools in the marketplace are wimpy, feminine and too small. Clearly, size matters.
Enter ACE® – a new line of performance grooming tools for men. Once and for all, nose hair and unibrows don't stand a plucking chance.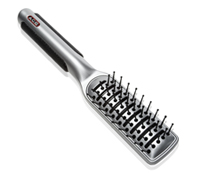 Top hair concerns for men: thinning hair, dandruff and dry, itchy scalp. Before you succumb to going for that oh-so-sexy comb-over, give some of these a shot…ACE Hair Tools combine comfort and styling with a man-friendly line of brushes and combs.

WHAT IT DOES:
ACE combs and brushes blend comfort and innovation with a masculine design to make daily grooming easy and comfortable.
ACE HAIR TOOLS:
ComfortFlex™ Pocket Comb is an American original reborn with an Xtreme Grip™ and a ComfortFlex™ slot that prevents teeth from snagging hair. Make sure to pack this perfect 5" ACE original that started it all.
ComfortFlex™ Comb has a ComfortFlex™ slot that prevents teeth from snagging hair, an Xtreme Grip for better control and dual-spaced teeth for any hair thickness. Measuring at 7.5", this comb is ideal for everyday styling.
ComfortFlex™ Brush helps avoid pain associated with brushing and is gentle on thinning hair by minimizing snagging and pulling. The ComfortFlex™ Technology allows bristles to massage the scalp, a longer man-sized handle, and Xtreme Grip™ for maximum comfort and control.
ComfortFlex™ Vent Brush is ideal for guys on the go – the vented head creates air currents with each stroke so hair dries quicker. The ComfortFlex™ technology allows bristles to massage the scalp, a longer man-sized handle and Xtreme Grip™ for maximum comfort and control.
Dandruff-Control Brush features copper bristles that kill 88% of the fungus that causes dandruff and dry scalp – give flakes the brush off!

The ACE Hair Tools are available at leading food, drug and mass market retailers.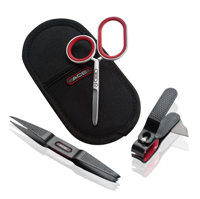 It's a proven fact that men's fingernails grow faster than women's and men's toenails are almost three times thicker. Clearly, a man-sized job requires man-sized tools. Put down that your girlfriend's clipper and meet your new best friend…

ACE Nail Care is a complete line of nail clippers and nail grooming tools. These products are designed specifically for men and are sure to keep your hands and feet looking sharp.

WHAT IT DOES:
ACE Nail Care tools have innovative features and man-sized grips to better trim, scrub, and clean nails.
ACE NAIL CARE:
ACE Toenail Clippers include a 55º POWER CUT™ Lever for thick nails, straight blades to avoid ingrown toenails and a built-in clippings catcher so cutting toenails is quick, neat and easy.
ACE Fingernail Clippers are equipped with a 30º POWER CUT™ Lever, a man-sized textured grip, stainless steel 420 construction, ultra-sharp curved blades, and a built-in clippings catcher.
ACE Nail File Pick features a 360º scrubbing ring to remove paint, grit and grease from nails, a cleaning pick to eliminate dirt under nails, and a nail file to smooth nails, all in one compact tool.
ACE Nail Brush is a manly way to scrub fingernails. Designed with an extra large, rubberized grip for man-sized hands, short, slanted bristles to scrub away grit under nails, and large, dense bristles for cleaning outer nails and cuticles.
The ACE Nail Care tools are available at leading food, drug and mass market retailers.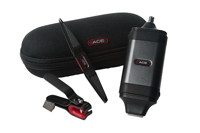 On that next vacation or business trip, take your stuff with you and hit the road in style.

ACE Travel Gear & Kits combine style and convenience, perfect for any man on the go.

WHAT IT DOES:
These ACE travel sets include all of the grooming tools that no man should go without. Compact, compartmentalized, and durable, these travel cases and kits let you hit the road in style or give a gift that is sure to get used.
ACE TRAVEL GEAR & KITS:
ACE Excursion Bag packs loads of storage space. It features two divided compartments to separate grooming tools from toiletries, a mesh pocket for securing loose items, a travel-tough zipper and an easy-to-clean ballistic nylon shell designed to hold its shape but also compress inside a suitcase.
ACE Power Grooming Kit features the ACE Dual Action Trimmer, Fingernail Clippers, and the Dual Action Tweezer for eyebrow grooming and detail tweezing, all tucked away in a ballistic nylon case
ACE Essential Grooming Kit includes the ACE Fingernail Clippers, the Dual Action Tweezer and the Safety Scissors for safely grooming facial hair, all in a ballistic nylon case.
The ACE Travel Gear & Kits are available at leading food, drug and mass market retailers.
Manscaping - It's time.

ACE Trimming Tools is a complete line of facial hair grooming tools designed to make maintaining your appearance easier than ever. Made to fit a man's hands, these tools are easy-to-use and effective.

WHAT IT DOES:
ACE Trimming Tools make every man's life easier by providing products to safely groom facial, nose and ear hair.
ACE TRIMMING TOOLS:
ACE Dual Action Trimmer is built with two powerful 7200 RPM motors with a 2-sided trim system that features a rotating head for nose and ear hair and a reciprocating head for sideburns, facial and neck hair. With an Xtreme Grip™ and ergonomic design, it delivers improved comfort and control.
ACE Detail Facial Scissors feature man-sized finger rings for better control, a non-slip rubberized grip, stainless steel 420 for ultra-sharp blades, and a precision trimming tip for grooming facial hair.
ACE Safety Scissors feature a round tip for safely trimming nose and ear hair, man-sized finger rings for better control, a non-slip rubberized grip, and stainless steal 420 for ultra-sharp blades.
ACE Facial Grooming Kit packs a ballistic nylon travel case with the ACE Facial Hair Comb and Detail Scissors, constructed with man-sized finger rings, ultra-sharp Stainless steal 420 cutting blades, and a precision trimming tip for grooming facial hair.
The ACE Trimming Tools are available at leading food, drug and mass market retailers.
It's not tweezing that's girly – it's the feminine tweezers that guys are forced to choose from. ACE Tweezers are specifically made for men, giving them industrial-grade, sharp looking tools that get the job done.

WHAT IT DOES:
ACE Tweezers help maintain eyebrows and facial hair as well as tackle ingrown hairs and splinters.
ACE TWEEZERS:
Dual Action Tweezer features heavy-gauge stainless steel 430 construction, a man-sized textured grip and a dual-head design – a precision tip for detail tweezing and a 4mm slant tip for eyebrow grooming.
Precision Tweezer is designed with a man-sized textured grip and an ultra-sharp, precision tip that gets to the root of ingrown hairs.
3-in-1 Splinter Tweezer comes complete with three specialized heads for squeezing, digging and extracting splinters.
The ACE Tweezer Tools are available at leading food, drug and mass market retailers.
ACE Fogless Shower Mirror
Only one thing's worse than shaving, and that's shaving blind. Don't get steamed. ACE Fogless Shower Mirror has what every man needs for a smooth, close shave every time. With a razor holder and fog-proof mirror in one, it is a must for every guy's shower. The Fogless Shower Mirror provides a crystal-clear reflection for a smooth nick-free shave every morning.

WHAT IT DOES:
ACE Fogless Shower Mirror is backed by a patented water reservoir that equalizes the mirror and air temperature to eliminate fog, so you can actually see yourself while you shave. Two heavy-duty suction cups, a height-adjustable base for multiple users and a flexible razor holder for different razor sizes makes this a must-have shower staple.
The ACE Fogless Shower Mirror is available at leading food, drug and mass market retailers.